A Future For Nature – The 2023 FFN Award Event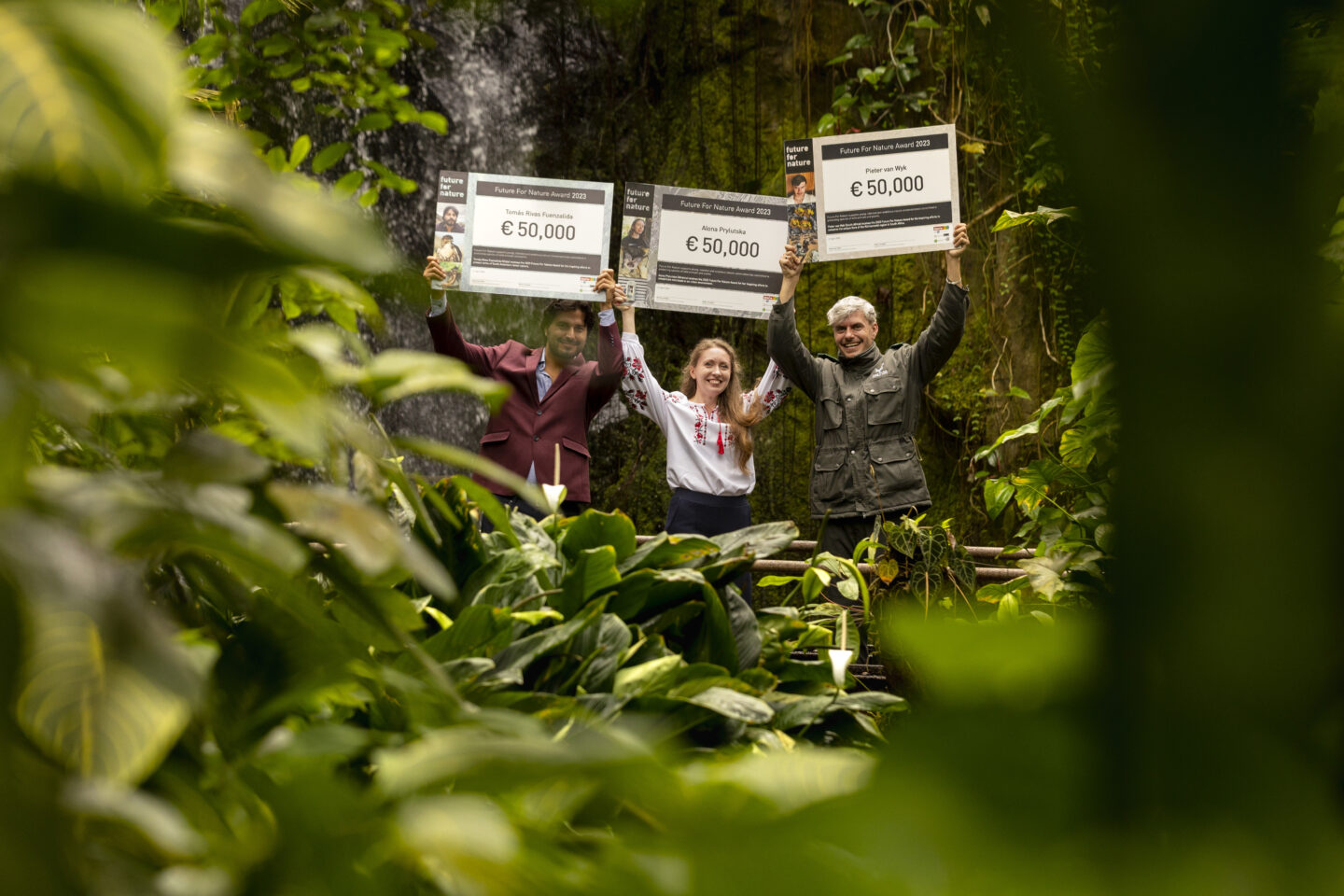 On Friday April 21st in Arnhem, the Netherlands, we celebrated the amazing achievements and inspirational goals of the newest FFN Award winners. The 2023 FFN Award Event put young conservationists Tomás Rivas Fuenzalida, Alona Prylutska and Pieter van Wyk in the well-deserved spotlight, and provided a platform for them to share their incredible nature conservation stories. It was an incredible ceremony, with both smiles and tears throughout.
Travelling across the world
As is tradition, the award ceremony was hosted by Saba Douglas-Hamilton, chair of the FFN International Selection Committee and mother-hen of the FFN Family of winners. However, unlike previous years, this year's ceremony took the audience on a journey across the world, travelling past FFN Award laureates and highlighting their recent achievements and development. We 'visited' Colombia where José Gonzalez-Maya shared about his Jaguar Friendly ecolabel. We met wild southern right whales along the coast of Chile with Barbara Galletti. Together with Rudi Putra, we listened to mesmerizing forest sounds of the Leuser ecosystem. We even crawled through caves to look for new bat roosts with Iroro Tanshi. Future For Nature is proud of all its winners, and it was wonderful to share with everyone how the FFN Family of winners is doing.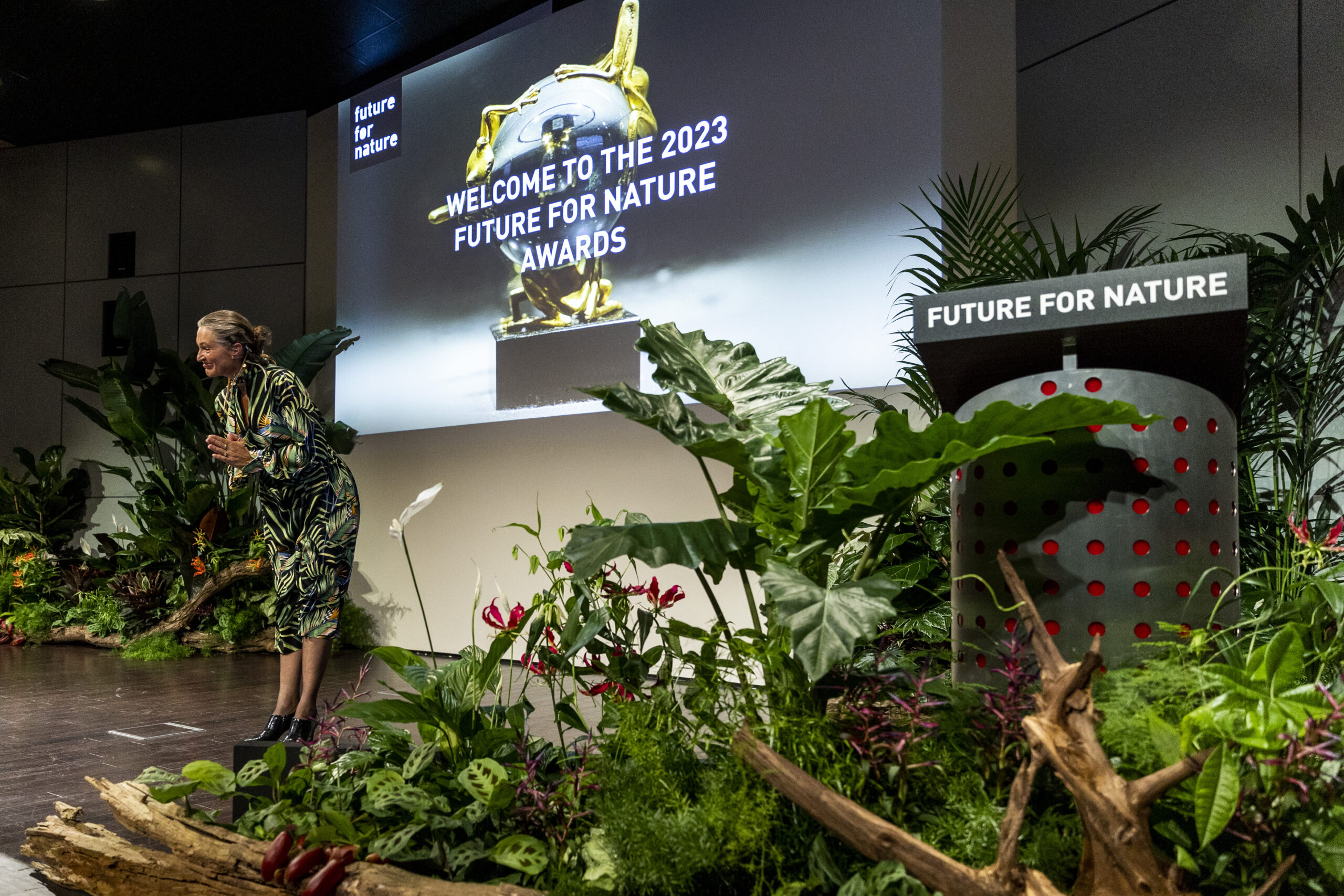 Emotional and inspirational
During our journey across the world, we also stopped in Chile, South Africa and Ukraine, the countries where our 2023 FFN Award winners work. Tomás, Pieter and Alona shared their personal conservation stories. Tomás taught us about the impressive the spirit of the Chilean forests, and how nature conservation truly is a person's calling. Alona showed us optimism and perseverance despite hardships, and there was a noticable shock in the audience when she showed a video of a bat release in a war-stricken city. Pieter gave us the necessary food for thought when it comes to plant conservation, and provided stone-cold proof about the fragility of our natural world. These touching moments were lightened by the pure dedication and passion of the three winners, illustrating that there is hope as long as we continue.
"My interest is not in having things, but in doing things." – Tomás Rivas Fuenzalida
This message of the importance of continuation was reinforced by Guest of Honour Pavan Sukhdev. Moved by the stories of the three winners, Pavan urged them to "stay with the fight and keep the love burning inside you" and spoke about how nature provides so much of value into our lives every day, but that these invisible economics of nature need to become visible. "All that these three young people have done, is helping to create movement that will finally change people's mindset", said Pavan, "and change the psyche of human beings to one which is positive towards nature, to one that seeks to defend, protect and preserve nature for future generations."
"Every species, every biome, every ecosystem that you protect is a force in the opposite direction to the disaster of planetary boundaries to which we are all heading inexorably. Please continue what you do." – Pavan Sukhdev
Moving forward
We hope everyone who joined, in-person and online, has been inspired by the conservation journey across the world, the stories of the FFN Award winners, and our Guest of Honour. We hope everyone shares, or continues to share, what they have heard and learned at the event. We will continue the fight for nature, connect with others both like-minded and not, and try get everyone moving for nature conservation.