Award Event 2023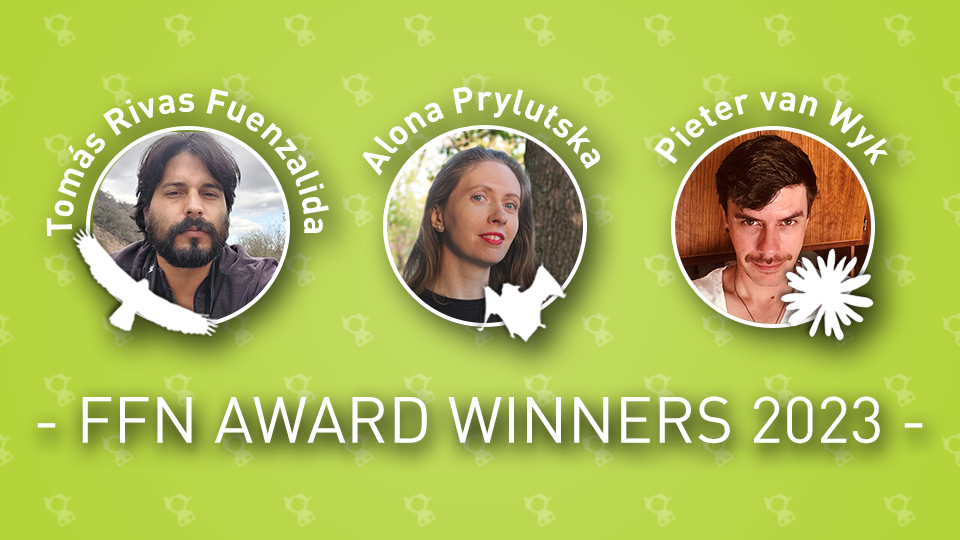 Out of more than 200 candidates from all over the world, three inspiring natural leaders in nature conservation were selected. Tomás Rivas Fuenzalida (Chile), Alona Prylutska (Ukraine) and Pieter van Wyk (South Africa) will receive this prestigious nature conservation prize and 50,000 euros per winner for their amazing conservation work. On Friday April 21st, we will be celebrating the achievements of the Future For Nature Award winners of 2023!
Three inspiring young nature conservationists
The Chilean conservationist Tomás Rivas Fuenzalida (34 years old) is working hard to protect some of South America's rarest raptors. He successfully tracks down bird nests to study their populations and trains local people on novel techniques to minimise human-raptor conflict.
Alona Prylutska (33 years old) is a Ukrainian conservationist dedicated to the rehabilitation of microbats in an urban environment. She rescues bats trapped in buildings, helps bust bat-myths and works towards creating safe-spaces for bats in the cities.
The South African botanist Pieter van Wyk (34 years old) is  committed to conserving the unique flora of the Richtersveld region in South Africa. Pieter is not holding back when it comes to environmental crimes and armed with knowledge and dedication, he works to preserve precious succulent species.
Future For Nature Guest of Honour
On April 21st of 2023, Pavan Sukhdev will join us as the Guest of Honour and graces the stage alongside the new winners of the Future For Nature Awards. Pavan Sukhdev is a scientist by education, an international banker by training, and an environmental economist by passion. Years of work in sustainability and the invisible economics of nature led to his appointment to head the United Nations' "Green Economy Initiative " and to lead the G8+5 study TEEB (The Economics of Ecosystems and Biodiversity). The warmhearted and wonderful Saba Douglas-Hamilton, chair of our international selection committee, will be the host of this inspiring afternoon.
Join the celebrations!
The FFN Award Event will be live streamed so everyone around the world can be inspired by the stories of this year's winners and the guest of honour. Everyone can virtually join through the livestream on this page. The link to the livestream will be posted here as soon as possible.