Celebrating (with) sloths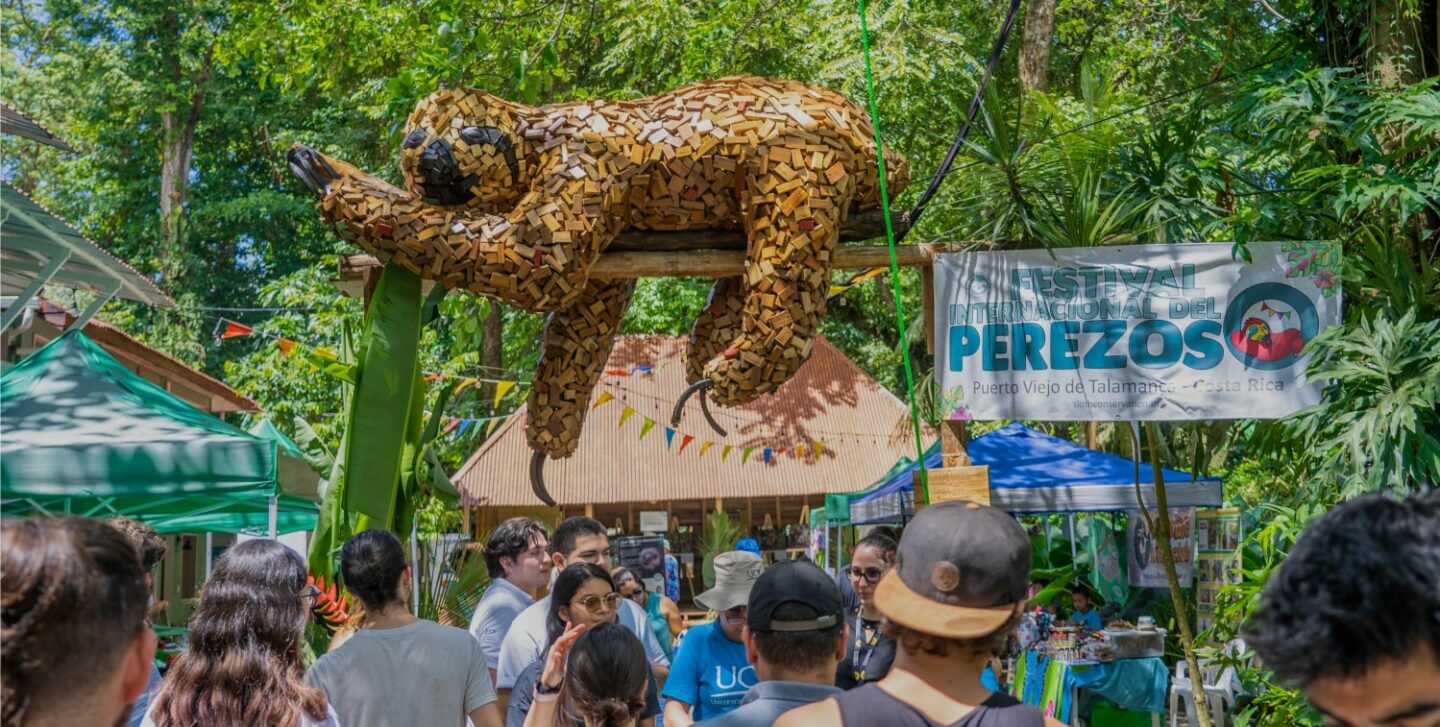 With the world slowly returning back to 'normal', festivals are returning as well! Last month Rebecca Cliffe (winner 2022) and her team at the Sloth Conservation Foundation (SloCo) organised their second International Sloth Festival in Costa Rica! It was an inspiring and successful event with vendors, artisans, fellow conservation organisations, and both human and animal guests!
Over 400 people joined for the festivities and were able to learn more about the local environment and wildlife, nature conservation projects, but could also enjoy a nice market and live music. The first guests to arrive where not human supporters, but several sloths! The festival was organised on a beautiful patch of forest near the beach, right next to the known territory of sloths Luna and Luiza. Four sloths visited the festival given in their honour and made sure everyone had a great time.
One of the highlights was the installation of the 200th(!) sloth bridge, live at the festival! A great accomplishment and important milestone for the organisation's Sloth Crossing Project. The first sloth crossing bridge went up in March 2019. The project aims to help restore habitat connectivity for sloths and other arboreal species and make sure animals can safely navigate shared spaces. What a special moment to share with everyone at the festival and the passionate sloth community.
Visitors could also experience hands on what is takes to study and protect sloths. Kids could join a sloth search using radio equipment and monitored sloths Luna and Luisa, while learning more about the science behind SloCo's Urban Sloth Project. SloCo's newest employee, Keysha the dog, made her debut at the festival as well. She demonstrated her great nose and showed how well she can find sloth poop, by tracking down training blocks with sloth poop hidden inside. By surprise she also tracked down some wild sloth scat for the audience, what a dog!
The 2nd International Sloth Festival was packed other fun and interesting activities, such as talks from other Costa Rican conservation organisations, a photography exhibition, a guided walk through the forest and sloth habitat. The local animal shelter was present too and even brought puppies for adoption (2 of the 3 found their homes that day!).
What an amazing achievement by Rebecca and her team, who have organised this big festival all while also working to protect Costa Rica's nature. Congrats on the big success!
Photos by Mira Meijer