Video: Five Years of Save Vietnam's Wildlife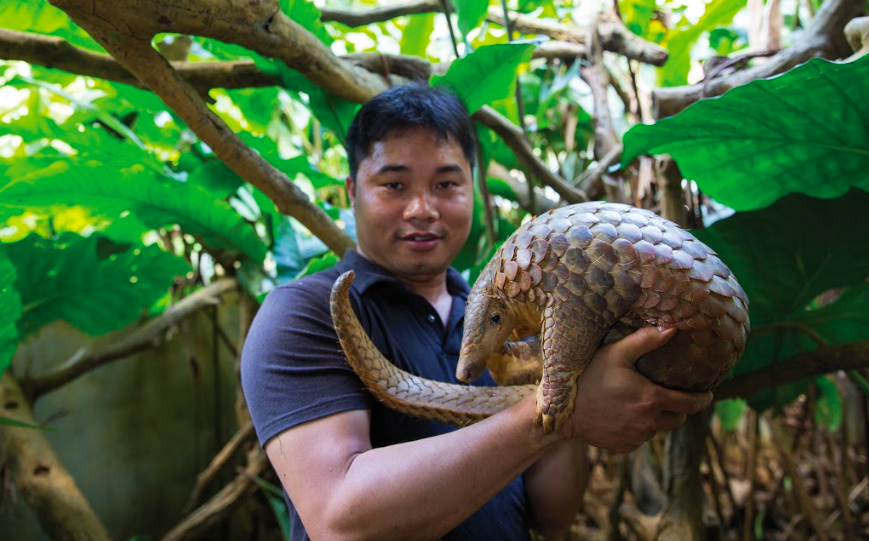 This year, Save Vietnams Wildlife (SVW) is celebrating its fifth anniversary. Five years ago, SWV founder Thai Van Nguyen, 2016 FFN Award winner, and his team began pushing themselves to the limit and started their nature conservation battle. They have been battling ever since, and with astonishing results! This five-year anniversary is a good opportunity to give an update and to highlight some of the many successes that SVW has helped bring about, as it strives to stop the extinction and champion the recovery of threatened species in Vietnam.
Two Rescue Centres
SVW runs two rescue centres that rescue between 400 to 600 animals from the illegal wildlife trade per year. Since its establishment, SVW collaborated with Cuc Phuong National Park to rescue about 1435 carnivores and pangolins from illegal trade. About 60% of these animals were released back into the wild! In 2017, SVW expanded their work to collaborate with Pu Mat National Park and built a multi-species rescue centre.
Law Enforcement Unit
In mid 2018, SVW established its own law enforcement unit, in collaboration with Pu Mat National Park. To help secure the park as a recovery site for wildlife, two anti-poaching teams were set up. Since its establishment, the enforcement team has apprehended 186 people who were in the park illegally, confiscated 41 guns, removed 4,482 animal traps and destroyed 434 illegal camps!
Education Centre
SWV believes that children are the future, therefore they aim to inspire the next generation about being passionate about wildlife and environmental protection. In 2015, the first Carnivore and Pangolin Education Centre in Vietnam was built. The centre has already educated 8157 school children living around Cuc Phuong National Park about wildlife conservation. Besides this, over 20 workshops were held for government agencies and community representatives to improve combatting illegal wildlife trade, raising awareness and reduce consumption.
Global Wildlife Conservation
On top of this all, SVW has contributed for wildlife conservation at national and international levels. They have led the development of a global species conservation strategy for Owston's Cicet, and worked with the Ministry of Agriculture and Rural Development to build up the national action plan for pangolins in Vietnam. SVW has supported updates to Vietnam's wildlife protection law to improve law enforcement and contributed to the global efforts in 2016 to transfer all eight pangolins species to Appendix 1 of CITES.
It is needless to say that SVW is doing an amazing job with their conservation work, and that they are really making a difference for the future of nature!