Future For Nature Award Winners 2023!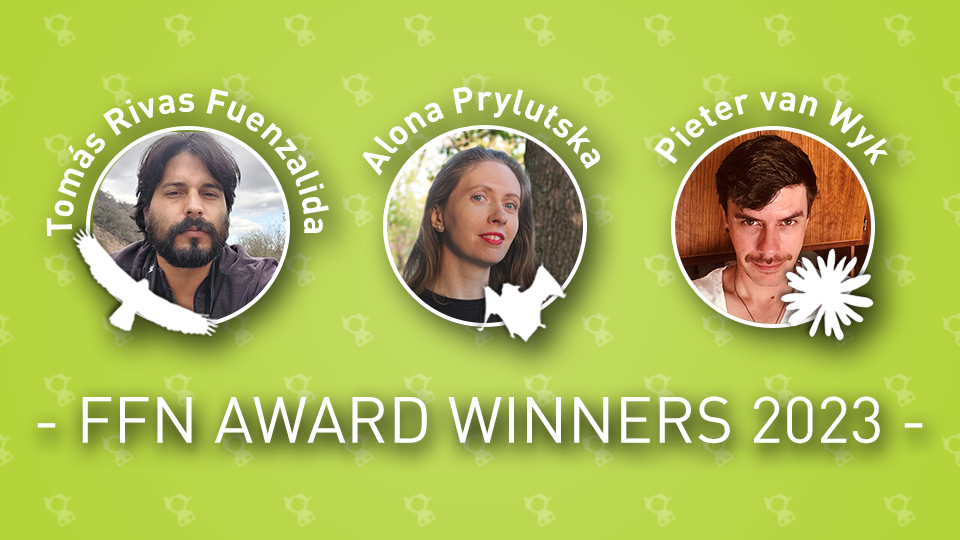 Out of more than 200 candidates from all over the world, three inspiring natural leaders in nature conservation were selected. Tomás Rivas Fuenzalida (Chile), Alona Prylutska (Ukraine) and Pieter van Wyk (South Africa) will receive this prestigious nature conservation prize and 50,000 euros per winner for their amazing conservation work. On Friday April 21st, we will be celebrating the achievements of the Future For Nature Award winners of 2023!
The Chilean conservationist Tomás Rivas Fuenzalida (34 years old) is working hard to protect some of South America's rarest raptors. He successfully tracks down bird nests to study their populations and trains local people on novel techniques to minimise human-raptor conflict.
Alona Prylutska (33 years old) is a Ukrainian conservationist dedicated to the rehabilitation of microbats in an urban environment. She rescues bats trapped in buildings, helps bust bat-myths and works towards creating safe-spaces for bats in the cities.
The South African botanist Pieter van Wyk (34 years old) is committed to conserving the unique flora of the Richtersveld region in South Africa. Pieter is not holding back when it comes to environmental crimes and armed with knowledge and dedication, he works to preserve precious succulent species.
We are extremely proud to present these three conservation heroes and cannot wait to celebrate their achievements at the Future For Nature Award Event on Friday April 21st.