Releasing Asian Giant Tortoises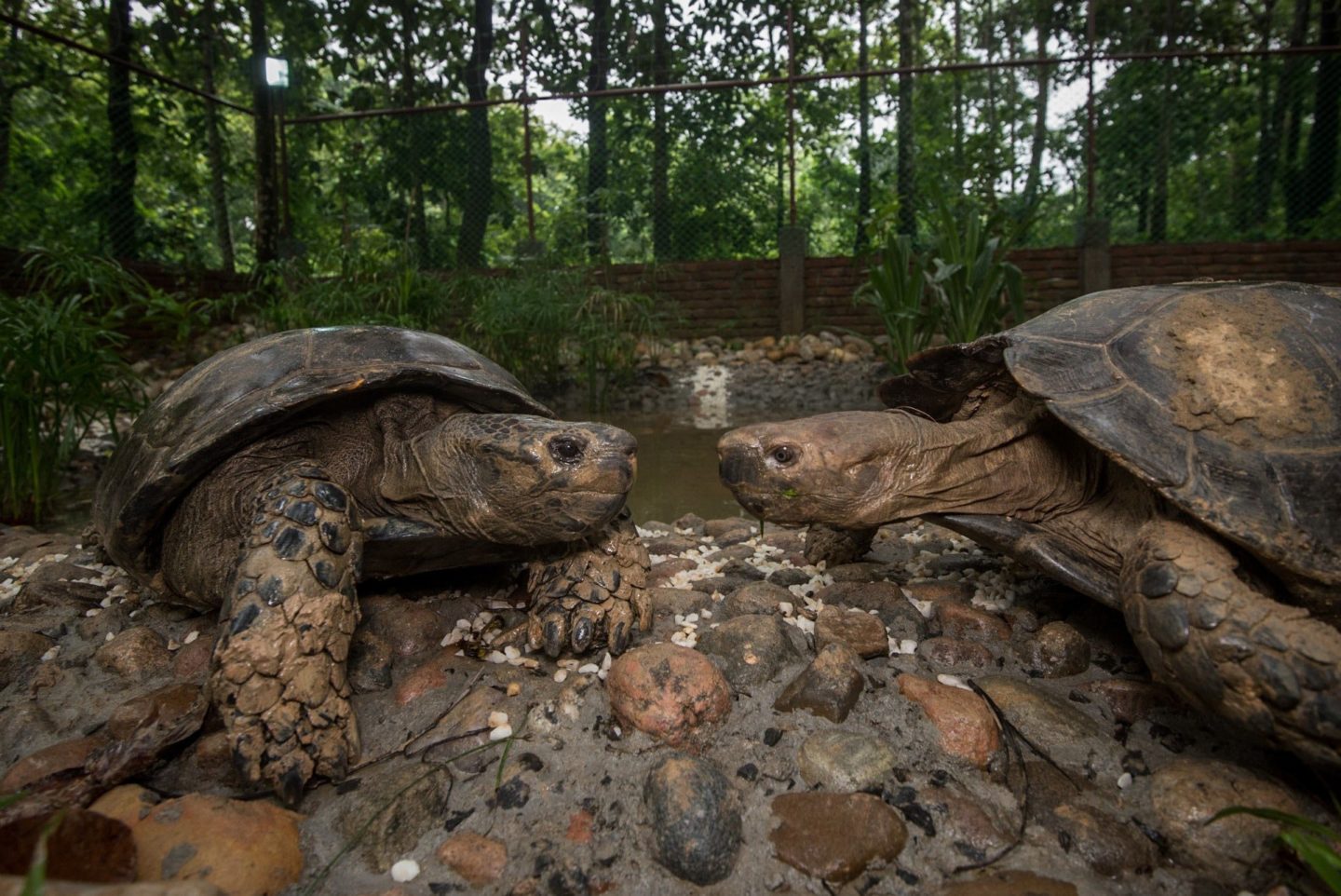 Casanova and Co. Credits Nature Stills
Update from the field by Shahriar Caesar Rahman, FFN Award winner 2017: Collaborating with the Government and the Local Community to Prevent Extinction of Asia's Largest Tortoise.
Asian Giant Tortoise
Asian Giant Tortoise (Manouria emys) is the largest tortoise in Asia and grows up to an impressive 35 kilograms. They are one of the very few chelonian species that have been documented to actively build nests using leaf litter. Historically found throughout the tropical forests in the southeast Asian countries, they are currently threatened with extinction and listed as Critically Endangered on the IUCN Red list.
Captive Breeding Centre
In Bangladesh, populations of Asian Giant Tortoises persist in remote areas of Chittagong Hill Tracts bordering Myanmar. Destruction of their tropical forest and hunting for consumption is the major threats for the species in this region. With financial support from the Future For Nature Award in 2017, our organisation Creative Conservation Alliance, in collaboration with Nature and Life Foundation, Bangladesh and Bangladesh Forest Department, have established the country's first captive breeding colony of Asian Giant Tortoise. The goal of this captive breeding centre is to produce offspring, release them back in the wild to reinforce wild population and reintroduce in areas where they historically occurred. Currently, we have seven specimens of Asian Giant Tortoise in the centre and we hope they will breed successfully in the near future.
Involving Mro Tribal Hunters
Realizing that captive breeding is only part of the solution, we must work with the local communities to reduce hunting pressure and to protect their habitat. With that in mind, we have recruited formal Mro tribal hunters and trained them as a biologist. These small army troops work in the hard-to-access remote areas being the local ambassador for conservation! With the help of parabiologists, we regularly rescue freshwater turtles and tortoises and released them back into the wild.
Upscaling Parabiologists
We have received the prestigious Whitley Award in 2018 and with financial support from the Whitley Fund for Nature we were able to double the number of parabiologists and scale up our several community initiatives to support the livelihood of the local people living close to the forest. Currently, we have 10 parabiologists working for us in the field.
Intervention
Last August, A Mro hunter captured an adult Asian Giant Tortoise in the forest. One of our parabiologists, Menshing Mro, quickly intervened and he managed to convince the villager not to eat this rare tortoise. Soon we informed Bangladesh Forest Department (the sole custodian of wildlife in Bangladesh) and with a couple of their staff we visited the area and successfully released the tortoise back into the wild!