Search for Young Natural Leaders in Nature Conservation Launched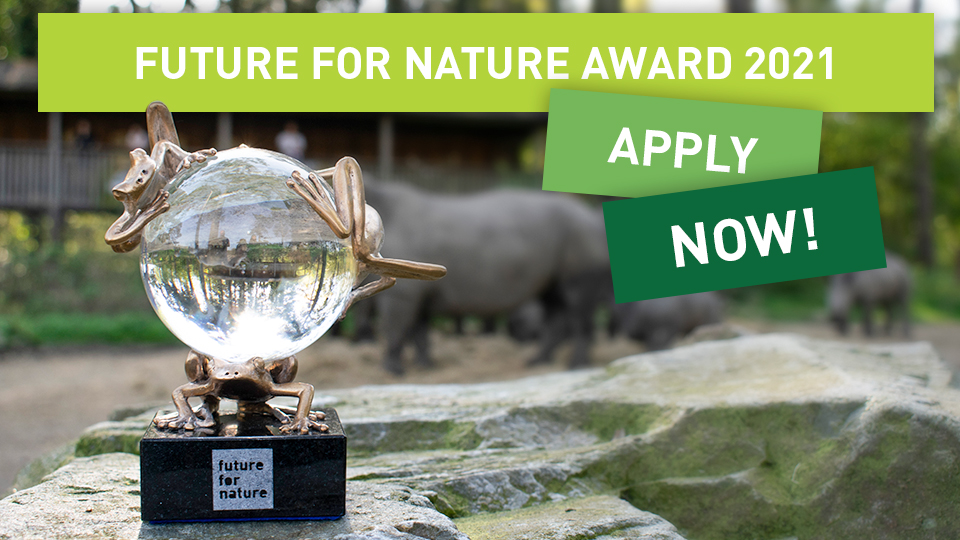 The Future For Nature Foundation is searching worldwide for young, talented, and ambitious conservationists for the prestigious Future For Nature Awards 2021.
Arnhem, 18 June 2020. The search for three new winners of the prestigious international nature conservation prize, the Future For Nature Award, has started today. Candidates from all over the world can apply. Future For Nature is looking for young, talented, and ambitious conservationists (no older than 35) committed to protecting species of wild animals and plants. A new generation that will make the difference for the future of nature. Three winners will receive this prestigious Award and 50,000 euros each during the Future For Nature Award Event at Royal Burgers' Zoo in Arnhem.
Future For Nature
More than ever before, it is clear that human life is dependent on nature, that life on earth depends on biodiversity. Each species that goes extinct weakens the system. Therefore, Future For Nature supports young, talented, and ambitious conservationist. The foundation is looking for young people (no older than 35) with vision and purpose, trailblazers who inspire to safeguard species and ecosystems. Individuals that bring hope for nature.
Call to Apply
Applications are accepted until the 15th of September 2020 through futurefornature.org. In 2019 about 125 candidates out of 61 countries worldwide applied for the Award: from Denmark to South Africa, from Bonaire to the Philippines. Top international conservationists select the winners.
Future For Nature Family
The Future For Nature Family already counts 39 members from 28 countries in all corners of the world. Their incredible stories can be found on futurefornature.org/winners.
Jean Thomas (2010) developed training programmes to reduce the hunt for tree kangaroos, which have led to the protection of 200,000 hectares of rainforest in Papua New Guinea.
Shahriar Caesar Rahman (2017) managed to turn life-long hunters in Bangladesh into para-biologists who use their traditional ecological knowledge to bring back imperiled tortoise and turtle species from the brink of extinction.
Iroro Tanshi (2020) is on a mission to protect the last known roost of the Short-tailed Roundleaf bat in Nigeria. Her inspiring and community based approach yields encouraging results for the survival of this fruit bat that plays an important role in the local ecosystem.
International Celebrities Support the Work of Future For Nature
The Future For Nature Awards will be presented at Royal Burgers' Zoo for the fourteenth consecutive year in 2021. The internationally recognised nature conservation prize was presented in the past by Sir David Attenborough, Dr. Jane Goodall DBE, Dr. Frans de Waal, and Doutzen Kroes. During the tenth edition, His Royal Highness King Willem-Alexander was the Guest of Honour.