The 2021 FFN Award Event: Apart, yet Together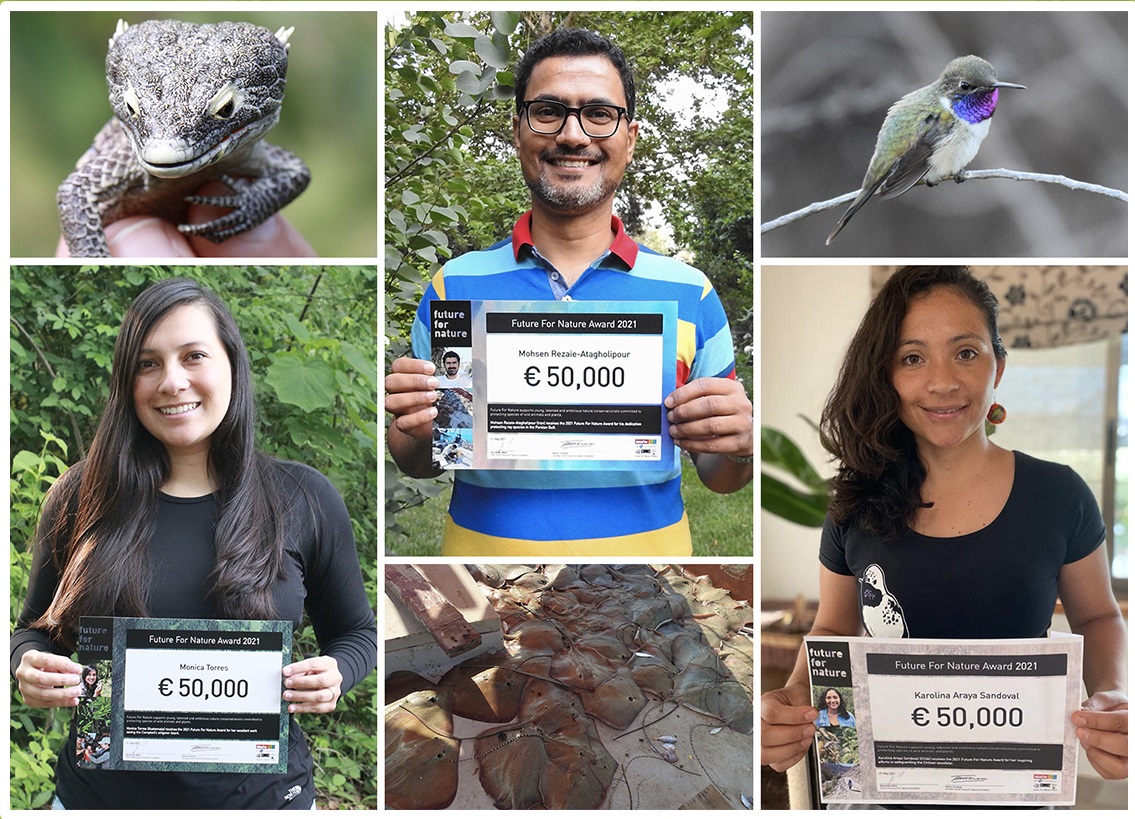 Even though the world continues to face Covid-19, nature conservation is more important than ever. On Friday 21 May, this year's three Future For Nature Award winners, Mónica Torres, Karolina Araya Sandoval and Mohsen Rezaie-Atagholipour were given the opportunity to present their work at the fourteenth annual FFN Award Event. This was the second year in a row that the event was held digitally, but the FFN community is closer all the more.
Inspiring Stories
Hundreds of digital guests watched the FFN Award Event livestream from home through the online platforms Hopin, YouTube and Facebook. After some very kind words from our gracious host and Head of the International Selection Committee member Saba Douglas-Hamilton and Guest of Honour and renowned nature photographer Frans Lanting, it was time to give the virtual floor to our three winners. Mónica Torres, tuning in from Guatemala, moved us all with her wonderful story about how she overcame challenges while protecting the endemic Abronia campbelli lizard. She has managed to join forces with poachers and convince them to join her cause. Karolina Araya Sandoval, live from Chile, touched our hearts with her efforts to save the smallest bird in Chile, the Chilean woodstar hummingbird. With her foundation Picaflor de Arica, Karolina raises awareness among local people, creates alliances with communities and protects the last key habitats of this tiny hummingbird. Lastly it was Mohsen Rezaie-Atagholipour's turn to wow the crowd with his impressive feats preventing shark and ray by-catch in the Persian Gulf. This marine biologist continues to book amazing results despite political and economic challenges in his country.
Heartfelt messages
Before the main part of the event came to an end, the winners were surprised with heartfelt messages from their teams and families. They were all so proud of what their colleagues and family members have achieved. To add to the surprise, the 2021 winners were also congratulated by previous FFN Award Winners and welcomed into the FFN Family. After the main event was concluded many guests stuck around to join each winner in an individual session where they could ask any question about the winners and their work.
Looking to the Future
However much everyone hoped for a live event this year, the digital version did not disappoint. The winners, host and Guest of Honour did an amazing job and it was truly an event to never forget. We are excited to see what the future has in store for our promising three winners Mónica, Karolina and Mohsen. We would once again like to congratulate them and welcome them into the FFN Family!
Missed the livestream? You can watch the entire event here.