Virtual Award Event 2020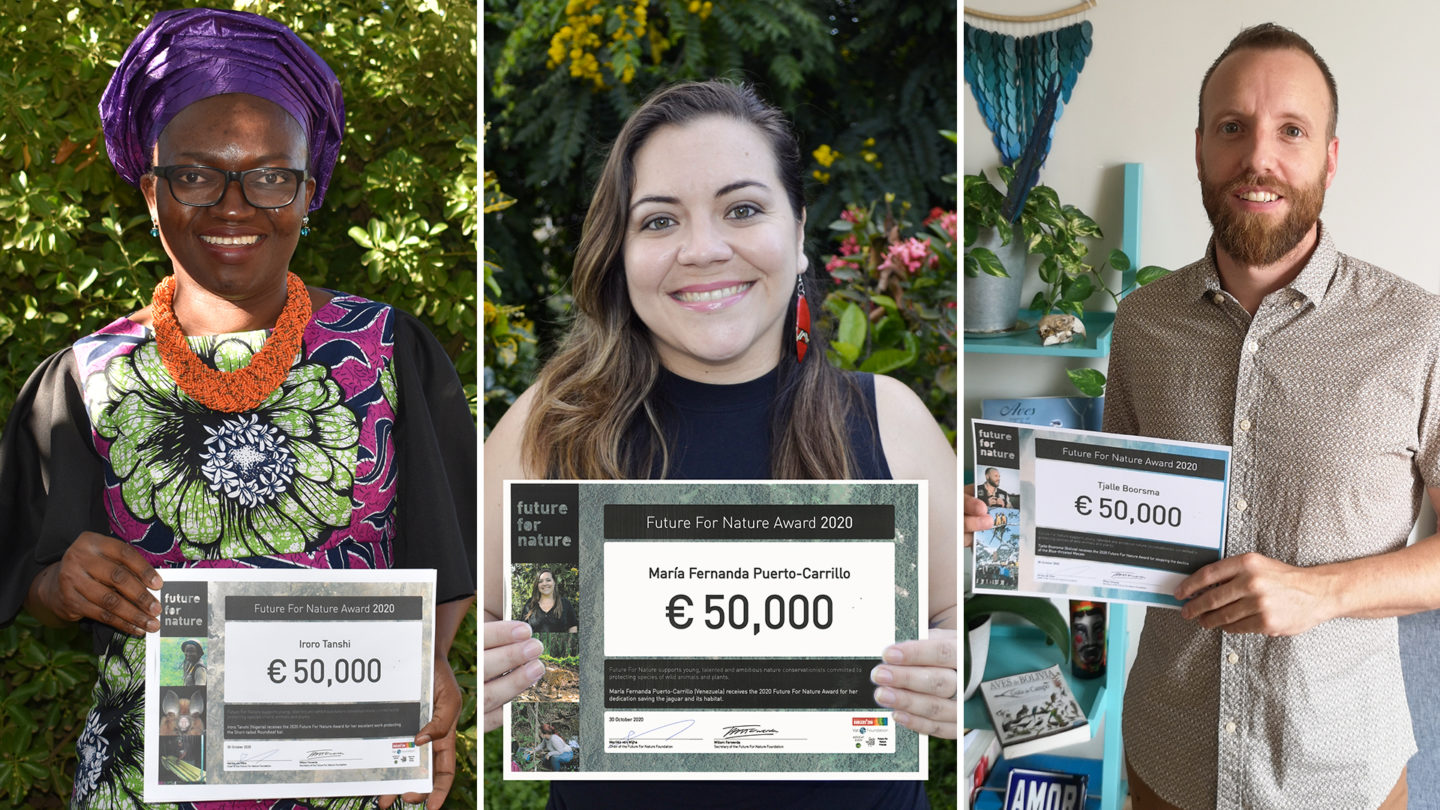 On the 30th of October the 2020 Future For Nature Award winners Iroro Tanshi, Tjalle Boorsma, and María Fernanda Puerto-Carrillo, got the chance to present their personal nature conservation story during the annual FFN Award Event. Due to Covid-19, the FFN Awards could not be held live like they were organized in the past years. Instead, the FFN winners of 2020 received the recognition and praise they deserved, virtually. Even though we were not physically together, we were together in spirit and we could still celebrate this year's incredible winners unitedly.
Presenting from the Living Room
Hundreds of people joined the FFN Award celebration from home via the Hopin, YouTube, or Facebook livestream. Our dazzling host Saba Douglas-Hamilton opened the event live from her home in Kenya. Each of the winners took the opportunity to present their conservation work to the attentive audience at home, all from their living room. Iroro, live from Texas in the United States, inspirationally spoke about her work protection the Short-tailed Roundleaf bat in Nigeria and her accomplishments in this area. María Fernanda, tuning in from Venezuela, conveyed her message of hope for the jaguars that she is trying to save, while facing some dangerous obstacles. Lastly, Tjalle, streaming from Bolivia, talked about the Blue-throated Macaw and his progress in helping this animal thrive while there are only a few left in the wild.
Powerful Messages
After the presentations the FFN winners were in for a big surprise. Their parents surprised them with a sweet and meaningful video message of pride and support. This truly brought a tear to every eye. After these powerful messages it was time for the final part of the show: the Q&A. People from all parts of the world could ask their questions to the FFN winners of this year's award in a joint conversation with Saba and the winners. After the show ended, people were able to join private sessions with an FFN winner of their choice. In this session they could ask their questions, if it was not answered in the previous Q&A, and congratulate our amazing winners personally.
Watch the Recorded Livestream
Watch the Aftermovie