Future For Nature Award Winners 2022!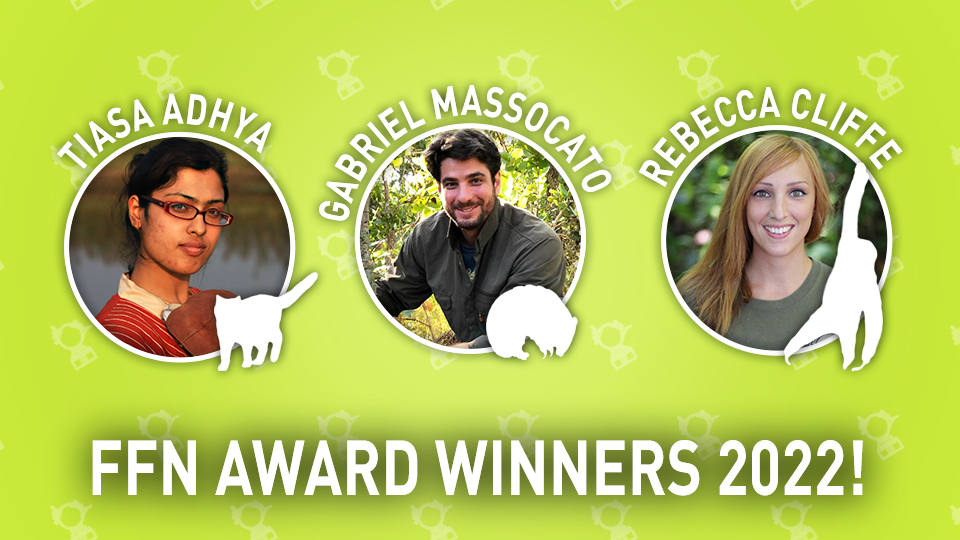 Out of more than 250 candidates from all over the world, three inspiring natural leaders in nature conservation were selected to be this year's winners of the Future For Nature Award. Tiasa Adhya (India), Gabriel Massocato (Brazil) and Rebecca Cliffe (Costa Rica/UK) will receive this prestigious nature conservation prize and 50,000 euros per winner for their amazing conservation work. 
Indian conservationist Tiasa Adhya (35 years old) committed to safeguarding the fishing cat and its wetland habitat. With The Fishing Cat Project she connects locals, researchers and the government to create a strong network and help secure not only the future of the fishing cat but also for humans dependent on this ecosystem.
Gabriel Massocato (34 years old) is a Brazilian biologist is going to great lengths to a species that was slipping away into oblivion, the giant armadillo. He is fighting fires and training others to create a safe natural environment and prevent the species from going extinct. Gabriel aims for the giant armadillo to become an ambassador for biodiversity.
The British biologist Rebecca Cliffe (31 years old) is passionate about protecting sloths and their tropical forest habitat in Costa Rica. She moved across the world to learn more about the elusive lives of these slow, charismatic creatures. Her Sloth Conservation Foundation she reforest nature, rescues wildlife and reconnects people with the environment.
We are extremely proud to present these three conservation heroes and cannot wait to celebrate their achievements at the Future For Nature Award Event on Friday May 13th.

The event will be live streamed on our Facebook and YouTube page so save the date!
International support for Future For Nature
On May 13th 2022 Razan Al Mubarak, newly elected president of the International Union for the Conservation of Nature (IUCN) and Frans Timmermans, vice president of the European Commission, are the guests of honour and will grace the stage alongside the new winners of the Future For Nature Awards. In the past this internationally recognised nature conservation prize was presented by Sir David Attenborough, Dame Jane Goodall, Dr. Frans de Waal and Doutzen Kroes. During the tenth edition, His Royal Highness King Willem-Alexander was the Guest of Honour.