Video: Future For Nature Award Winners 2020!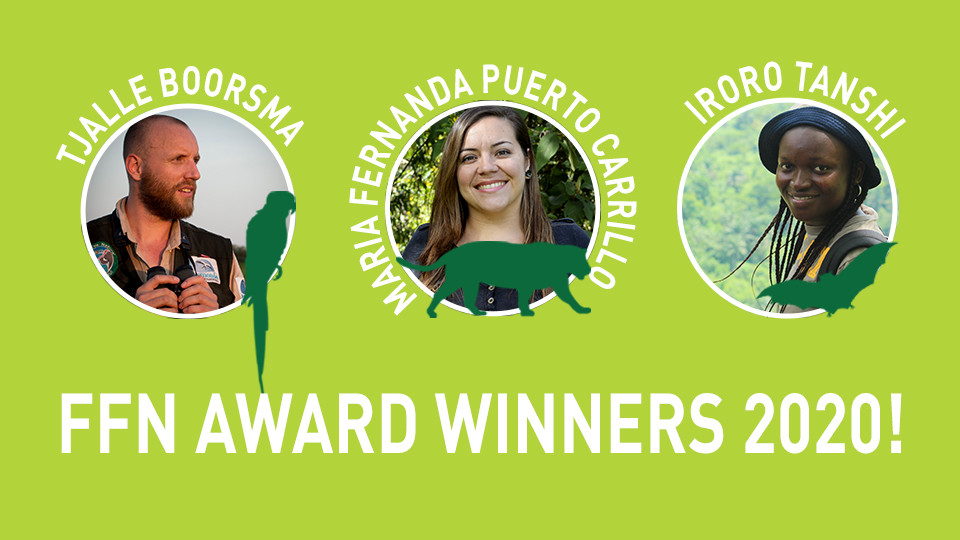 The Future For Nature Foundation supports young, inspiring natural leaders that fight uphill battles for the conservation of species in Venezuela, Nigeria and Bolivia with €50.000.
Out of one hundred and twenty-four candidates from all over the world, three inspiring natural leaders in nature conservation were chosen to be this year's winners of the Future For Nature Award. María Fernanda Puerto-Carrillo (Venezuela), Iroro Tanshi (Nigeria), and Tjalle Boorsma (the Netherlands / Bolivia) will receive this prestigious nature conservation prize and 50,000 euro each during the Future For Nature Award Event at Royal Burgers' Zoo. In the past this internationally renowned prize was presented by icons such as Sir David Attenborough and Dr. Jane Goodall.
Talented nature conservationists from Venezuela, Nigeria and the Netherlands
The current crisis in Venezuela has made conservation work hard and often dangerous. María Fernanda Puerto-Carrillo (33 years old) is one of the last ones standing and even more passionate and determined to protect the jaguar and its habitat than before.
The Nigerian Iroro Tanshi (35 years old) rediscovered a population of the Short-tailed Roundleaf bat in Nigeria (last seen 45 years ago) and is on a mission to protect the last known roost that is under threat of fruit bat hunting and wildfires. Her 'Zero Wildfire Campaign' already resulted in zero wildfire reports in 2019 during the dry season.
The Dutch Tjalle Boorsma (35 years old) left his homeland to stop the decline of Bolivia's most threatened birds, the Blue-throated Macaw. He discovered their previously unknown nesting sites and gained crucial information for designing a conservation programme for these amazing birds.
(Inter) national celebrities support the work of Future For Nature
The Future For Nature Awards will be presented at Burgers' Zoo for the thirteenth consecutive year in 2020. The internationally recognised nature conservation prize was presented in the past by Sir David Attenborough, Dr. Jane Goodall, Dr. Frans de Waal and Doutzen Kroes. During the tenth edition, His Royal Highness King Willem-Alexander was the Guest of Honour.
Find out more about the Virtual FFN Award Event of 2020. 
Note: In the light of the COVID-19 (Coronavirus) outbreak we regret to announce that, we have made the difficult decision to postpone the Future For Nature Award Event 2020 until further notice. Further updates will be shared in due course.