Sea Ranger Service Signs Major Government 'Green Deal'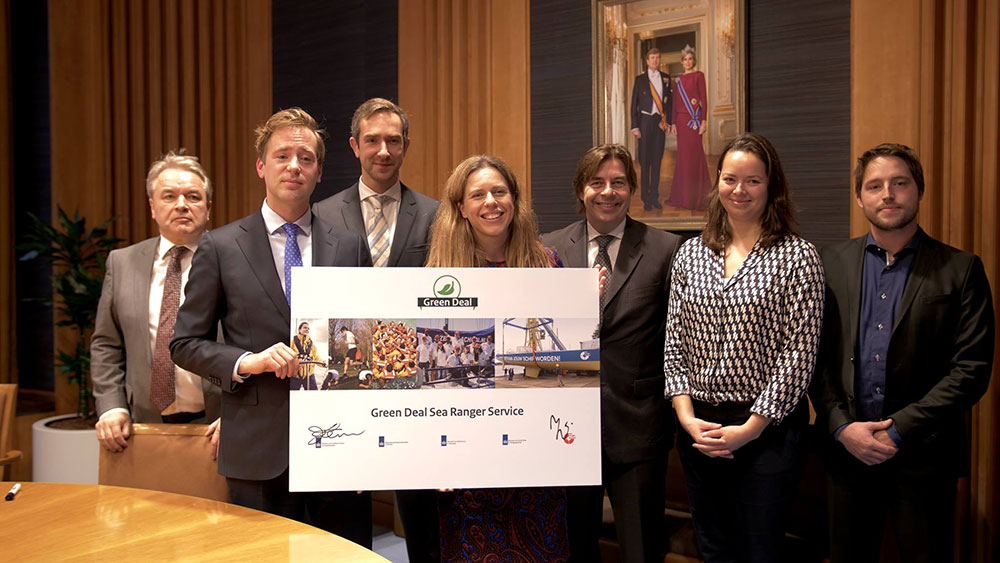 Last week the Sea Ranger Service, launched by Future For Nature winner Wietse van der Werf in 2016, signed its first major government deal. Four Dutch government ministers backed the agreement, known as a 'Green Deal'. But what does it really mean? Wietse explains:
A Green Deal is an agreement with which the Dutch government has collaborated with many different organisations to drive forward sustainability innovation. For the Sea Ranger Service, it means that it can test its approach on the North Sea. Unique is also, that the social affairs ministry has signed. Training long-term unemployed youths as Sea Rangers with the help of veterans, is now recognised as creating social impact, thereby making the conservation effort deliver on social-economic outcomes (creating new jobs) which can count on broad political support.
The Green Deal lays the foundations to launch a two-year pilot programme starting early next year, in which the Sea Ranger Service can test and validate its approach on the North Sea. Various potential Sea Ranger tasks will be carried out in the fields of landscape restoration, plastic pollution-research and wildlife monitoring using special sailing work ships. To ensure the operation of these ships can be carried out with a certain financial sustainability, the activities will be combined with a number of commercial contracts including maintenance of seaweed farms, monitoring of offshore wind farms and facilitating diving expeditions to study historic shipwrecks.
Since December the first Sea Rangers are deployed at sea full-time, carrying out the first tasks and getting used to sailing the North Sea in winter, which offers its unique challenges. In June 2019 the new Sea Ranger Bootcamp will start, giving 18-29 year-olds the chance to be trained and potentially selected to work for a full year as a Sea Ranger.