Bronwyn Maree
During a course on a research vessel, Bronwyn Maree suffered terribly from sea sickness. She crawled up deck to get some fresh air and suddenly came face to face with an albatross. She was mesmerized by its effortless flight, and was filled with horror when she learned that they are at the brink of extinction. She joined the Albatross Task Force (ATF) in 2008, and became one of their first female instructors. From 2017 – 2019, Bronwyn was working with Asian fishing fleets as Project Coordinator for the Seabird Bycatch component of the Common Oceans Tuna Project.
Vision and Approach
Sea bird bycatch in fishing gear kills around 3000 albatrosses and other pelagic birds every year. One of the main threats that Albatrosses face is through fishing interactions as they circumnavigate the globe in search of food. They accidently get hooked by long-line fisheries and drown. By training specialists who work directly with fishermen, BirdLife fills a critical gap in translating knowledge of seabird bycatch mitigation into changed fishing practices. By testing and creating new mitigation technologies, Bronwyn offers sustainable solutions and inspires fishermen to trust in BirdLife's motives, instead of trying to make them stop fishing.
"The high seas is still the area of greatest concern, with vessels from many countries operating and catching seabirds, with little compliance with regulations, and with little understanding of exactly what is going on. Awareness is one of the solutions, and to me it is the best part of my work, where you are able to see people's perceptions and ideas change over time."

Bronwyn Maree
Impact of the Future For Nature Award
The prize money of the Future For Nature Awards was used to develop the Hook Pod, a new sustainable device for the long-line fishery that will solve seabird bycatch as well as turtle and shark bycatch.
The prize money made it possible to purchase a vehicle to move heavy fishing materials and bird carcasses.
The prize money allowed Bronwyn to attend, present and network at an international conference in Alaska focusing on Bycatch entitled: Fisheries Bycatch: Global Issues and Creative Solutions.
"This is a solution-based project that has the potential to save the lives of hundreds of seabirds, including the endangered enigmatic Albatrosses without impacting the livelihood of fishermen. Bronwyn's project has technological ingenuity, conservation implication and livelihood sensitivity."

Mr. Vivek Menon, International Selection Committee
Current Challenge
From 2008 to the beginning of 2019, Bronwyn dedicated her life and career to reducing seabird bycatch in fisheries. But, at the beginning of 2019, she was given the opportunity to transfer her skills from the marine to the terrestrial world at Human Wildlife Solutions. Human Wildlife Solutions' mission is to provide innovative, non-invasive and sustainable solutions to resolve conflict situations between humans and terrestrial wildlife, specifically with baboons.
Read more about her career switch in her blog 'Skills on Human Wildlife Solutions taken from Marine to the Terrestrial World'.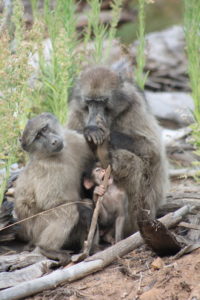 Credits: Bronwyn Maree/Human Wildlife Solutions