Future For Nature Winners 2021!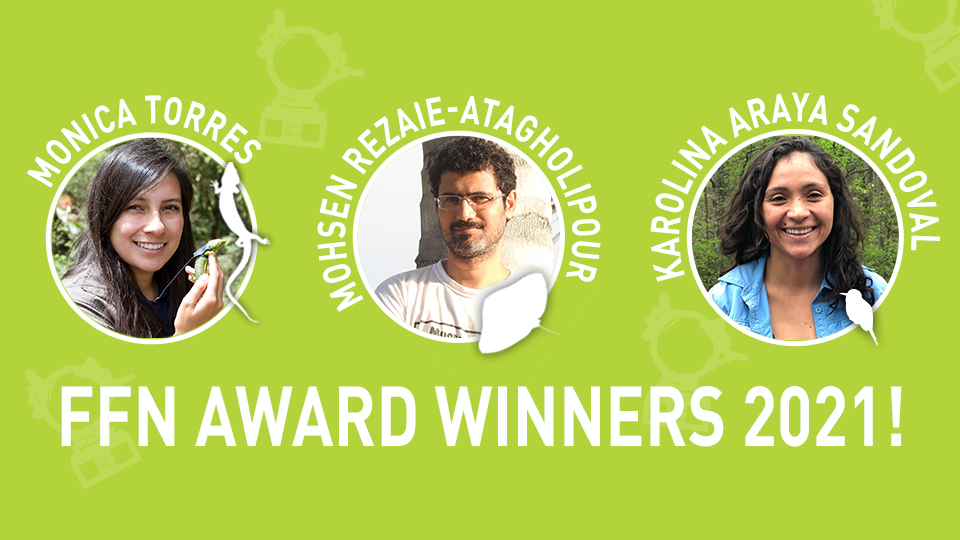 Three young and talented conservationists from Chile, Iran and Guatemala will receive the Future For Nature Award 2021 and 50,000 euros each.
Out of almost 500 candidates from all over the world, three inspiring natural leaders in nature conservation were selected to be this year's winners of the Future For Nature Award. Karolina Araya Sandoval (Chile), Mohsen Rezaie-Atagholipour (Iran) and Mónica Torres (Guatemala) will receive this prestigious nature conservation prize and 50,000 euros per winner for their amazing conservation work. 
The Chilean Karolina Araya Sandoval (34 years old) is going to great lengths to protect the smallest bird in Chile, the Chilean woodstar hummingbird. Recently this led her to discovere a new breeding ground for this endangered species. Her foundation Picaflor de Arica raises awareness among local people, creates alliances with communities and protects the last key habitats of this tiny hummingbird.
The Iranian Mohsen Rezaie-Atagholipour (35 years old) is passionate about marine life and works hard to protect it in a country within a challenging political landscape and an ongoing economic depression. His tireless efforts have resulted in the first ever shark and ray conservation programme in Iran. Mohsen is committed to reduce ray and shark bycatch by providing fishermen with practical solutions.
The Guatemalan Mónica Torres (32 years old) rediscovered the presumed extinct Campbell's alligator lizard in Guatemala and has dedicated her career to protecting this species and its habitat. She encourages local farmers to reforest, works together with communities to restore habitats and has reintroduced almost 300 Campbell's alligator lizards into the wild.
We are extremely proud to present these three conservation heroes and cannot wait to celebrate their achievements at the Future For Nature Award Event.