Save the date!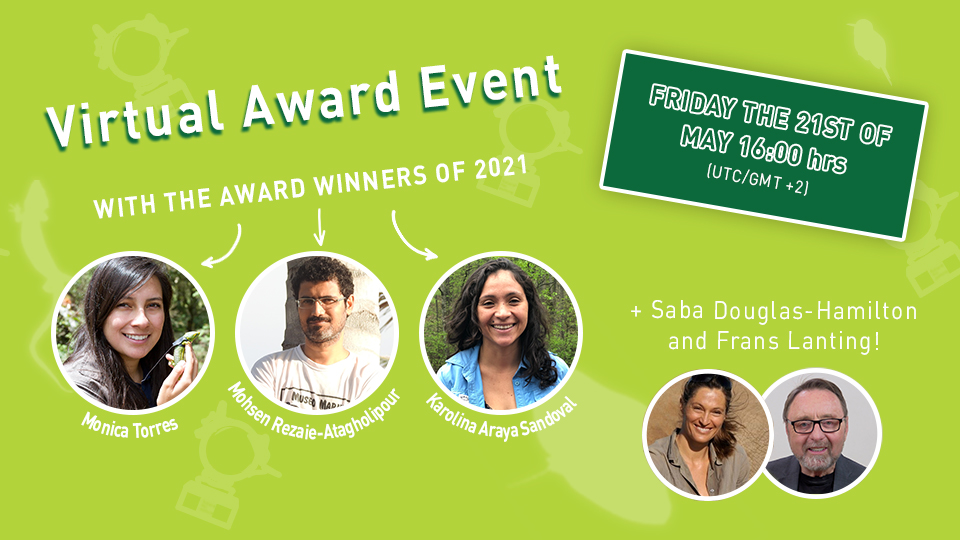 The 2021 Virtual FFN Award Event
We are thrilled to announce that the fourteenth Future For Nature Award Event will be brought to you virtually on Friday the 21st of May 16:00 hrs (UTC/GMT +2)! In this festive virtual event, we will celebrate the achievements of the inspiring three winners and connect with people from all over the globe.
Join us on as we bring the inspiring stories of the 2021 FFN Award winners Mónica Torres, Mohsen Rezaie-Atagholipour and Karolina Araya Sandoval, to your home.
The 2021 Guest of Honour
In the past this internationally recognized nature conservation prize was presented by icons such as Sir David Attenborough, Jane Goodall, Doutzen Kroes, and Russell Mittermeijer. During the tenth edition, His Royal Highness King Willem-Alexander was the Guest of Honour. The international 'Guest of Honour' presenting the Future For Nature Awards on May 21st will be world renowned nature photographer Frans Lanting.
Save the date for now, the official registration link will be shared in due course.
In the meantime we will continue to communicate about the wonderful, inspiring and invaluable work done by the FFN Award winners. So please keep an eye on our website and social media channels.