Virtual Award Event 2021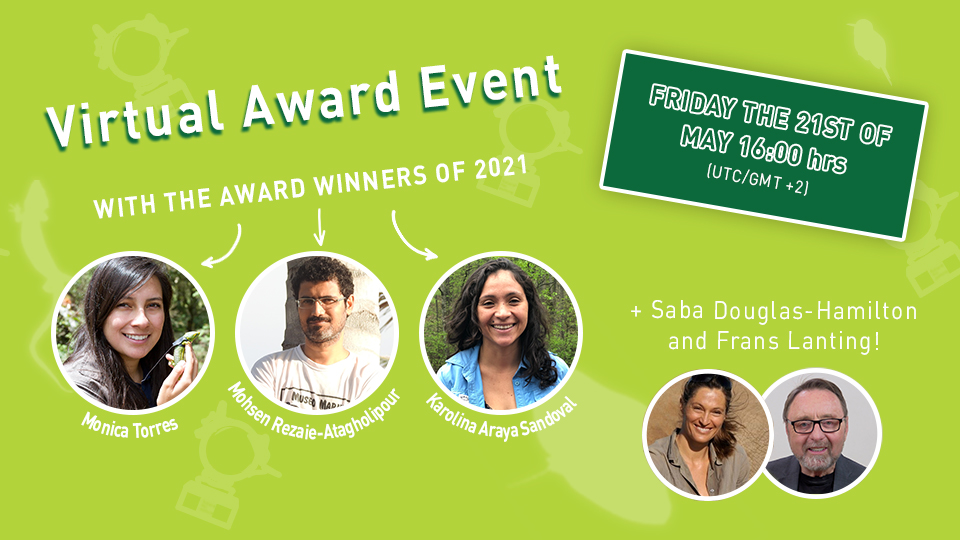 We invite you to join us and celebrate the outstanding conservation work of the Future For Nature Award winners Karolina Araya Sandoval, Mohsen Rezaie-Atagholipour and Monica Torres during the Virtual Future For Nature Award Event of 2021! On Friday the 21st of May 16:00 hrs (UTC/GMT +2), you will be immersed in conservation positivity as these three wildlife heroes share their personal stories on a virtual stage. Our ever gracious host Saba Douglas-Hamilton, the chair of the International Selection Committee, will be leading this inspiring afternoon supported by world renowned nature photographer and our Guest of Honour Frans Lanting.
This interactive virtual event will surely leave you buzzing with enthusiasm and renew your hope for a future for nature!
Registration
There are two ways to follow the Virtual FFN Award Event, both options are free.
Participate Through Hopin
You can actively participate online during the event, which allows you to chat with other attendants, visit virtual field sites in the expo hall and personally congratulate the FFN Award Winners and ask questions in the digital networking sessions. For this option you need to register for the online platform Hopin and checkout your ticket to our event. You will receive a reminder email from the hosting platform Hopin before the event starts (please check your spam in case it lands there).
Watch the Livestream without interacting
You can watch the livestream without interacting online. For this option you do not need to register and simply need to click on the Livestream link which will appear on this page on the 21st of May.
Programme
(UTC/GMT +2)
15.45 Reception
16.00 Welcome by Saba Douglas-Hamilton and Guest of Honour Frans Lanting
16:15 Individual stories of the 2021 FFN Award Winners
16.40 Live Q&A
16.55 Closing words
17.00 Digital networking opportunity in Hopin
18.00 End of event
Speakers
Saba Douglas-Hamilton, chair of Future For Nature's International Selection Committee and host of the annual Future For Nature Award Events. She is an award-winning wildlife filmmaker, TV host, and conservationist.
Frans Lanting, world renowned nature photographer and Guest of Honour at the 2021 Virtual Future For Nature Award Event. He has travelled the world to document nature's extraordinary diversity and help create leverage for conservation.
The winners of the Future For Nature Awards 2021!